The Pearl of the Southern Coast, Balatonszemes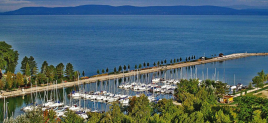 On the Southern Coast of the 'Hungarian Sea', only 130 kilometers from Budapest, lays the tranquil and peaceful Balatonszemes, a village, capable of satisfying every tourist demand you can think of. The shady parks and the sunny coastline is filled with excellent restaurants, where you and your family can relax and have fun during the holidays.
History
The history of our village can be traced back to prehistoric times. There are many archeological finds from the Bronze Age, which prove that the area was inhabited at the time.
The name 'Szemes' refers to the ancient Roman watchtower, which was also mentioned in the Charter of the Tihany Abbey from the 11th century.
Values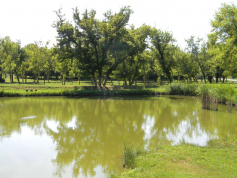 The appeal of the village can be found in the public beaches located in beautiful green areas extending over a 100 meters. The blue waters of the lake, the historical sights, the traditional Hungarian gastronomy offered by the local restaurants, the excellent beverages of the Southern Transdanubian wineries and diverse cultural programs all make up an unforgettable trip for the visitors planning to come here for the holidays.
A child-friendly spa located in the public beach and several new developments made in recent years fully complete the village's tourism services.
The path to the harbor is surrounded by trees, where one might enjoy a pleasant cruise on Lake Balaton.
Well-kept streets, flower gardens, renewed playgrounds and hospitality await visitors looking to relax.
Be our guest and make yourself at home in Balatonszemes!
Gallery